The impact of the amalgamation of 275 municipalities into 98 new bigger ones, Holmegaard became from 2007 part of Nastved Municipality. The new municipality was merged with 3 other smaller municipalities and the town of Naestved. The new municipality has a surface of 684 square and in 2015 81.800 inhabitants, of which half are living in the countryside and the other half in the town. Holmegaard has been member of the Charter from the beginning in 1989, and the membership has from 2007 been transferred to Naestved.
Naestved is called the capital of South Zealand as Naestved is the center of trade, business, education and retail centers, which servicing the south part of Zealand. Naestved is a traffic hub for public transport as trains are connecting Naestved to Copenhagen and Sweden. Several times a day direct trains connect Naestved to Hamburg in Germany. Public buses and trains are servicing the countryside during the day.
Close to Naestved highways give connection in all directions and during the last years the infrastructure has been greatly expanded with ring road systems. In the years to come new infrastructure projects are underway with the construction of a bridge to Germany, which will mean upgrading of road and rail links around Naestved.
In Denmark the municipalities are responsible for all kinds of social welfare, kindergarten, schools, elderly care, helping unemployed to a new job, technical services of all kinds including environment.
In order to meet the family needs, parents can choose between various kinds of kinder care, which all exploit the opportunities offered by the surrounding countryside. Naestved has 17 primary and lower secondary schools, and all pupils are offered "outdoor" programmes that provide them with a basic knowledge of natural science and the environment through hands-on-experience, which also help to encourage the children to establish healthy outdoor pastimes.
Staying in Naestved municipality you are very close to the sea, lakes and rivers. You can take a trip to the seaside Karrebæksminde and splash around the waves at one of the best beaches in Denmark, or padding a canoe through some of Denmark's most beautiful scenery.
In the country side you will pass several, very old manor houses and castles with public access to flower gardens and exhibitions of old paintings and you will find two 18 hole golf courses.
At the edge of the Holmegaard Moor the huge production of glass bottles for the famous Carlsberg and Tuborg beer is working 24 hours a day.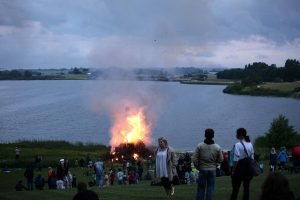 One of the best known Danish amusement parks: Bon-Bon-Land is situated in Naestved close to the highway. The park offers 60 different types of amusements on a surface of 130.000 square meters. Bon-Bon-Land is a family amusement park, where you can make you own picnic and enjoy the different kind of children amusement.
Read More of Næstved Municipality