Cissé Friends of Europe Association
The association "The Friends of Europe" was founded in Cissé, in 1992.
At this time, the mayor Michel Bouchet, founder of "La Charte des Communes Rurales d'Europe" in 1989, wanted to create this association to help the municipality, but especially to involve more people in these European exchanges through informal meetings: "the Europe for citizen", to discover the culture and the traditions of the other countries.
So, every year, we try to receive or to go to a twin village, just for 2 or 3 days (It's not always easy to arrange … but it's better when there is an association in the village!)
When the country is too far from Cissé, we take the opportunity to visit the country for some days more. For example, some years ago, we received the Petanque club from Esch. In 2012, it was the friends of Europe from Næstved and in 2014 we went to Næstved. In 2015 we went to Nagyçenk, with a little trip in Hungary, and this year, I'm planning a trip to Croatia, with a stop in Tisno!
And to meet together the members, we also organize some activities:
– for the annual meeting, we invite a person (from the Charter or not) to present his country. Lucien Majerus (Troisvierges), Erik Torm (Næstved), Melinda Toth (Nagyçenk), Pierre and Dominique Lejeune (Bièvre), a group of dancer from Ibanesti, Miljenko (Tisno), Théo and Jeanette Dooren (Esch) went to Cissé ! … Many thanks to all !
-we celebrate the Day of Europe
-we organise an evening with the photos from the meetings of the past year
-there is also a hiking with a heritage tour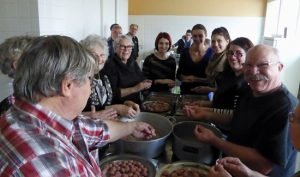 -and to close the year, we have an European meal!
And of course, we work always together with the municipality for the organisation of the European Meetings.
At this time, we are 100 members.
Chairperson: Martine Garnier
Address: 9 route de la Gannerie, 86170 Cissé, France.
Contact Mobile: +33 667 486 226
Email address: martine_garnier@hotmail.com