We don´t really know the exact origin of our name: Bienvenida. But everyone who visit us can confirm that it is a good selection: Bienvenida is a warm, friendly and cheery municipality. Gastronomy and cultural heritage are some of our charms, but don´t trust us; you need to check it: come and feel yourself… Welcome!
Location and surroundings

Bienvenida is located in the southwest of Spain, in the region of Extremadura, close to Portugal. The landscape is defined by fields of vineyards, olives, cereals and grasses. The vegetation is composed of remnants of Mediterranean woodland, represented by the oak and cork with other species such as rockrose, gorse, lavender, etc…
Access

You can access through the exit 700 of the highway A-66 to the Road Home (EX-202). You can also access via the national road N-432 Badajoz-Granada, to the junction with the district Bienvenida to EX-202.
History
Data are available from the existence of Bienvenida prior to the year 1351. We found some remains of Roman settlements in different parts of the municipality while the village comes to the process of Christian reconquest and repopulation by the Order of Santiago.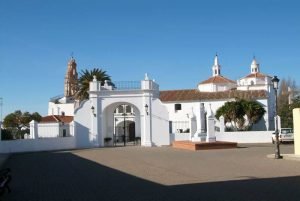 Our town is also known for being the birthplace of the dynasty of the bullfighter Manuel Mejías Rapela, its founder. It is the most important Dynasty in the story of bullfighting, and there is a beautiful Museum in our village for reminding this big and important family.
Traditional festivities
– Carnival.
– Pilgrimage of Saint Isidro (May 15). It is celebrated for several days in the field (Pradera de San Isidro), where everybody can mix faith and fun for 3-4 days. Two weeks before, Saint Isidro is moved in procession to its sanctuary in the prairie. Everybody joins this procession in a very festivity day.
– On Easter, attractions steps away from the traditional processions, especially on Good Friday procession of the Holy Burial in which "Benedictine group" sings Gregorian chants. It is interpreted by ordinary people, with very singular latin tones with flamenco details.
– Home Fair, held the first weekend of August.
– Festivities in honour of Our Lady the Virgin de los Milagros, on September 8.
Cuisine:

The typical dishes of the locality are related to the Iberian pig and lamb: chanfaina, caldereta. Our landscape is ideal for the Iberian pigs, and we have the best Iberian ham and meats of Spain.
There are also lots of famous and tasty sweets: empanadilla, spirals of glory, flaky almond and traditional rosquetes and buns at Easter.
Read More of Bienvenida Municipality